Beats
---
SMCWgtn with Melanie Cameron from Powershop
Wednesday 30 July, 5:30pm
An evening we guarantee will not bore you into an apathetic, unengaged coma, something Melanie Cameron, Community Manager at Powershop, stands by – it's part of their social media strategy!
Wednesday 30 July at San Fran, 171 Cuba Street.
Doors open at 5.30pm, speaker begins at 6.00pm.
Speaker: Melanie Cameron – Community Manager at Powershop.
Melanie has been the Community Manager at Powershop since February 2013, previously she was living in London and working for a company called Brandtology, where she was lucky enough to work on social media analysis for global brands such as Estee Lauder, Microsoft, Sony and General Electric. Earlier this month, Melanie spoke at the NZ Social Media Forum in Auckland, and has recently been named as a finalist for the TVNZ Rookie Marketer of the Year Award.
Melanie loves the "social" in "social media", and believes too many brands forget that side of it. She loves following brands for their original, hilarious content, such as Old Spice, Taco Bell, Skittles and Innocent Drinks.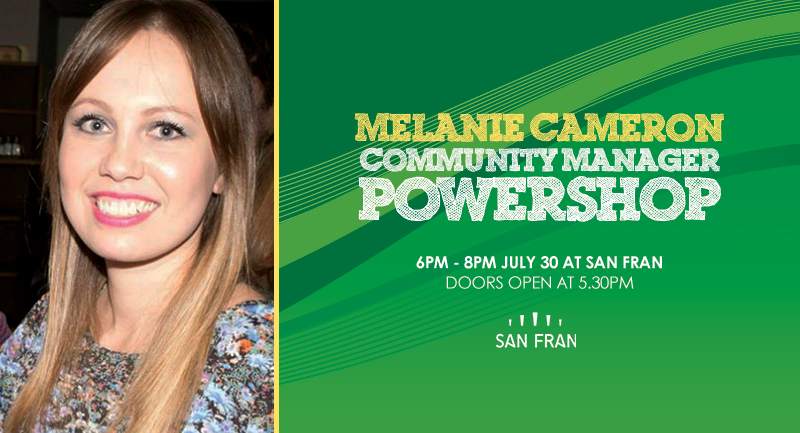 Powershop started five years ago with the idea that people could actually like their power company. Industry goliaths across the globe are guilty of ignoring the interests of their customers and boring them into an apathetic, unengaged coma. A situation Powershop is hell-bent on rectifying.
With engagement at the core of the Powershop business model, it is essential for this to also be at the core of Powershop's social media channels. Melanie will talk about engagement as a key strategy on social media, as well as using social media as a customer service tool, and the importance of creating content that is original and relevant to your brand. She'll also talk about the value of social data, and how you can achieve and prove social ROI.
See you there!
From the team at Social Media Club Wellington